The First Steps
Odin Server, The Lavender Beds, Ward 23, Plot 36

Opening Hours: Tuesdays, 7pm ST
Visitors Welcome Any Time
Discord: https://discord.gg/hVVfByG4US

The First Steps is an Adventurer's Haven, a place for Disciples of War, Magic, Land and Hand to find those of like mind, share their experiences, and plan future expeditions. Led by Keeper of the Moon Mis'to Raesthe, this veteran adventurer is keen to give those new to the trade the home, support and guidance they need on the road to making their first gil. For those who haven't yet found the courage to take that first step on their adventuring journey, they'll find those willing to guide them on their way.

As a roleplaying venue, the First Steps focuses on letting players enjoy in-game content in character, as well as helping folk meet fresh faces and new people feel welcomed and comfortable.
CONDUCT & QUESTIONS
As a heavy-roleplaying venue, the First Steps encourages people to stay in character and within the current constraints of the lore. As an Adventurer's Guild, the Steps is happy for you to openly wear weapons and armor inside.

The Steps welcomes people new to RP, especially those who are nervous or new to the idea. If that's you, we'd love you to show up and passively observe if you want! Or, you can ping Mis'to in game if you'd prefer a private session or introductions. I will always make time for you! If you just want to observe for now, please tag yourself with the Materia Meld icon so we know not to stress you out with RP.

If you'd like to work with the First Steps for events, or for your character to use the performing space or set up a shop stall, please let me know! I'd be delighted to set up the space for you in advance.

FFXIV is a Teen-rated game and we request players adhere to that rating in public RP. The Steps is designed to cater to adventuring, so themes such as combat, dealing with injury or other violence-based tropes may be prevalent. Only engage in RP that you are comfortable with! If you've concerns on any RP happening in the venue, reach out to Mis'to. If it is breaking TOS, reach out to the GM's immediately.

When using certain mods, please bear your fellow players in mind when using them. They may be unaware that their character appears different on your screen and for some this could be distressing or even triggering. Please do not call attention to them, either in (IC) or out (OOC) of character. If you experience upsetting behaviour in this manner, please report this to the GM's.

Finally, have fun. Engage in RP and themes that you enjoy and take satisfaction in. Be kind and respectful to your fellow players and enjoy the rich world that Square Enix has given us!
GARDENS

Explore the winding paths and ponds meant to evoke memories of the Black Shroud. Relax around the private gardens, train in the glade with friends, or enjoy outdoor hot springs at any time of the day.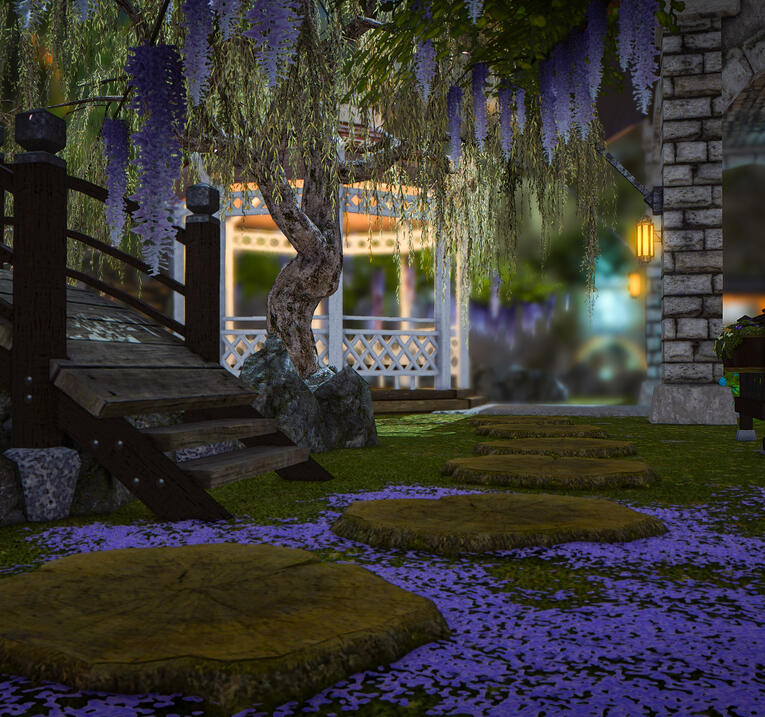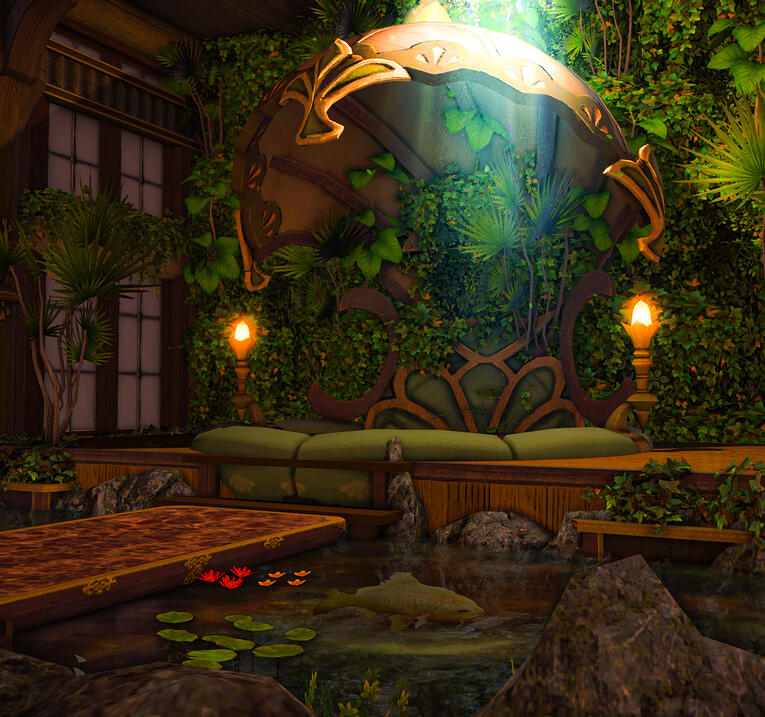 CONSERVATORY

Walk into the Steps in the morning and you'll be greeted by the sunrise in this naturally lit space. Featuring a large seating area and natural green space, come enjoy a relaxing chat with your friends.
KITCHEN AND DINING

The Steps features a public kitchen and dining space for anyone wanting to cook and eat. For those less inclined, free bread, tea and coffee is always available. Mis'to is also well-known for serving up his homemade noodles. When he's not about, M'saro and Tiqu will be delighted to serve you.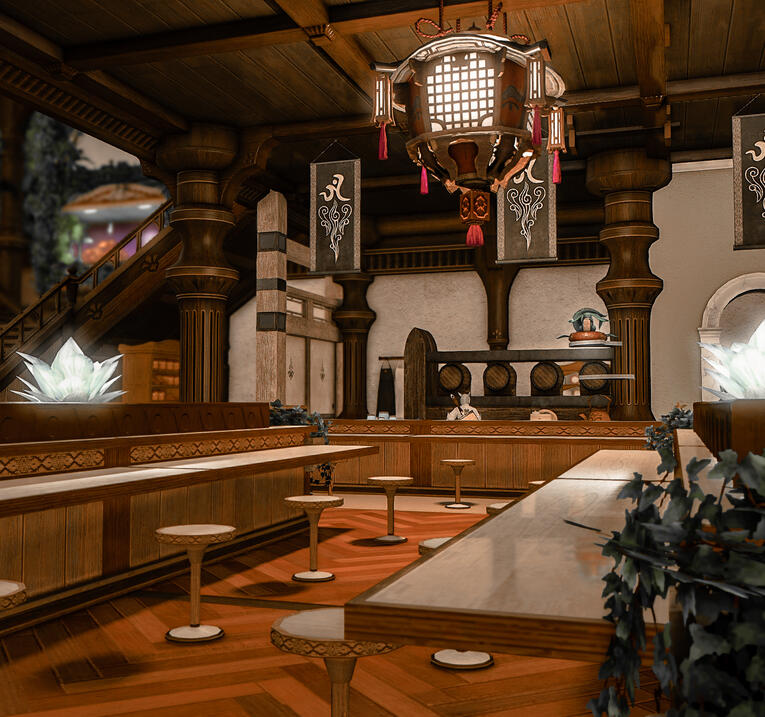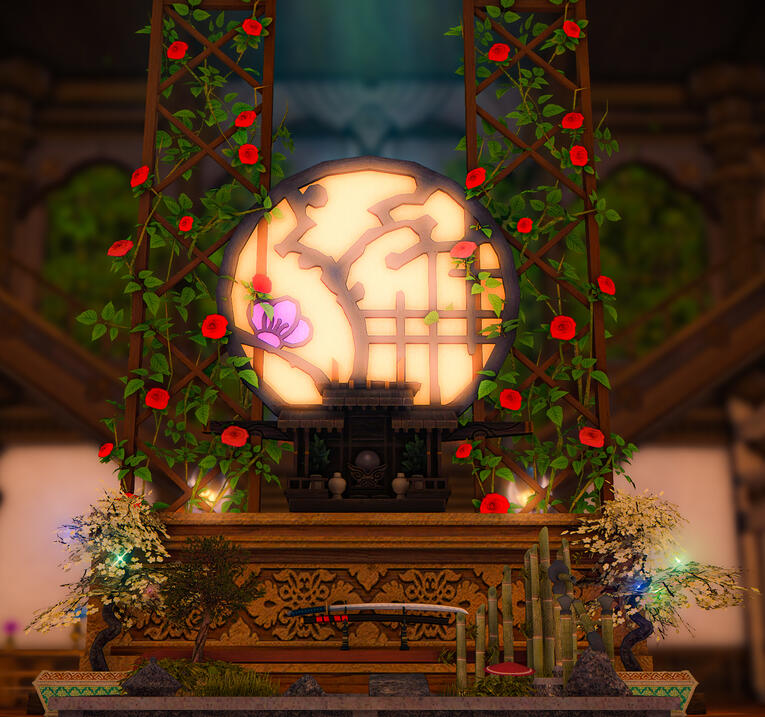 PUBLIC SPA

Adventuring takes its toll on the body and so upstairs you'll find the spas, filled with heated water and a selection of scents and salts to ease away those aches and pains. Changing rooms, free towels and storage available.

Please be appropriately dressed for the spa. It is a public bath.
SCHOOL OF ADVENTURE

Newly overhauled, the basement of the Steps has been turned into a training ground suitable for any type of physical or magical combat. Come practice with your friends, watch veteran fighters put on an exhibition bout or talk with experts on a variety of topics!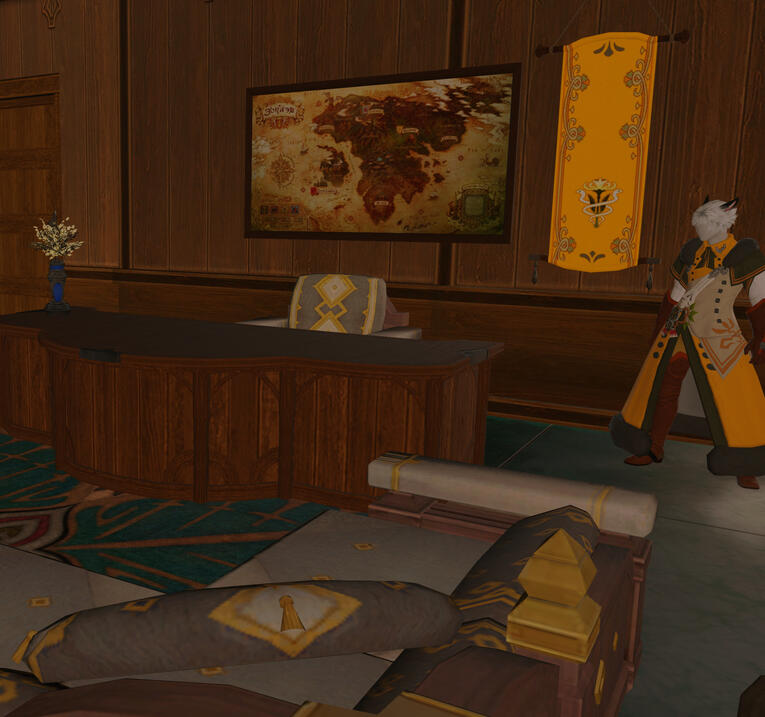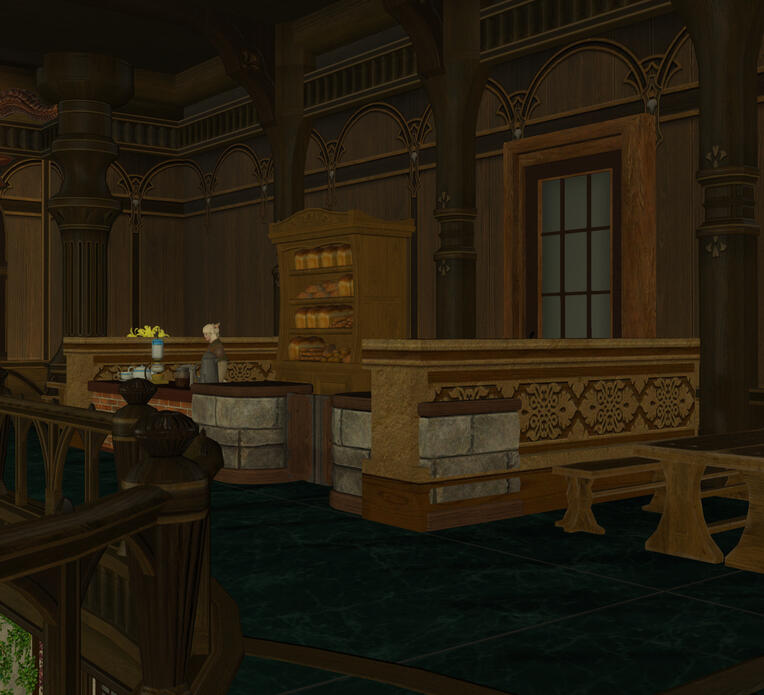 PRIMAL SIMULATIONS

In collaboration with the Ironworks, the Steps is proud to host Primal Simulations! Learn what it means to battle these fearsome foes without the threat of tempering or death; all the better practice should you ever need to take on the real thing.
EVENTS
Levemetes
Looking to do some spontaneous in-game content in character?

Why not grab a group of friends and see if you're up to our leves?

Check out the current job board here.
____________________________________
Bi-Monthly Adventurer's Night
Next Date: November 20 2020
Have you wanted to adventure but too nervous to take the first step alone?

Are you a veteran adventurer happy to show new blood the ropes?

Or maybe you're a crafter or gatherer eager to meet the folk that you supply goods for?

Every two months the Steps hosts Adventurer's Night, an icebreaker event designed for people to enjoy RP in the outside world, dungeons and trials - even Primals! Come alone or with friends, group up and take on in-game content together!

For full details of the event, go here.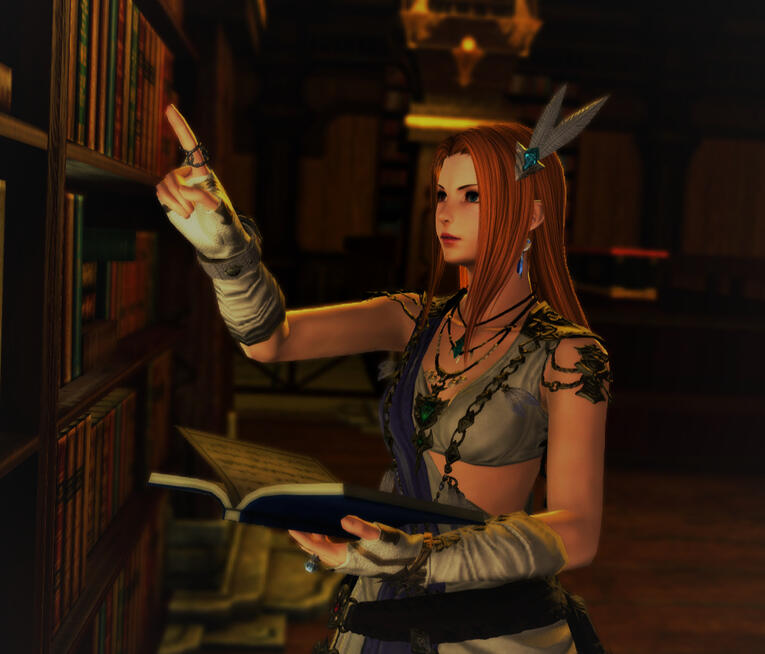 Mis'to Raesthe

An older Keeper born in the depths of the Black Shroud, Mis'to was once a decorated Twin Adder who stepped down after the events of Carteneau.

Since then he's travelled much of Eorzea and the Far East, returning now to settle down and share his wisdom with fellow adventurers.

For Mis'to's full profile and backstory, head here!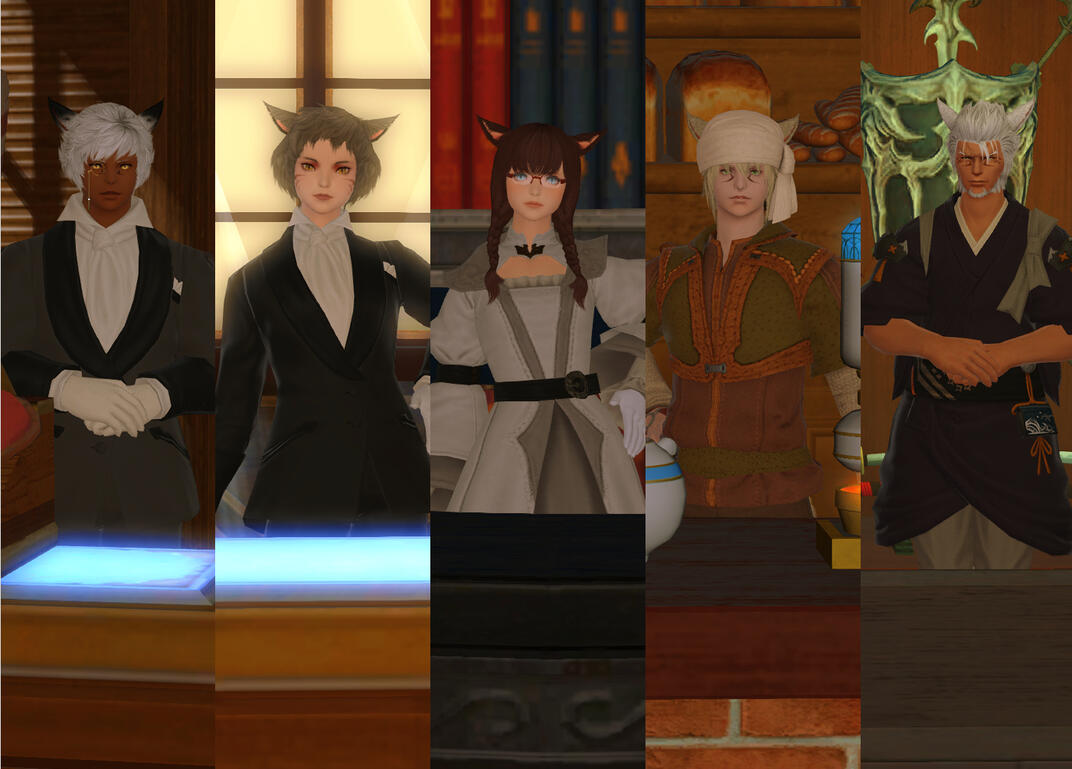 NPC Staff
Our NPC staff will be delighted to serve your various adventuring needs.

Rinima - Feel free to drop weapons and coats with her as you come in, or drop a message in her book.

J'luyuh - Our Levemete, check in with him for the latest Grand Company requests and advice on the right quest for you.

G'hiri - A librarian and lorekeeper, if you need extra information about Primal Simulations, she has what you need.

M'saro and Tiqu - Brother and sister who have currently been reassigned to help Mis'to in the ever-popular kitchen.

U'zhomoro - A master smith, he'll be happy to forge armor and repair your gear for you.
*Please note NPC staff are not actively RP'ed outside of specific events